News
Press Release
MNA expands interoperability demo for NAB
NAB SHOW
Booth #N625
Las Vegas Convention Center
April 18 – 21
MNA AES67 live demonstration image link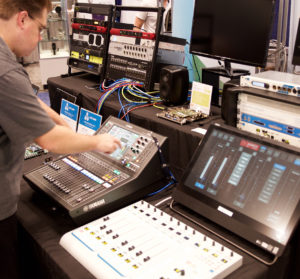 MNA expands interoperability demo for NAB
Extended AES67 demo highlights RAVENNA, Dante, Livewire connectivity
Media Networking Alliance, Bothell, Washington, USA. At this year's NAB Show, the Media Networking Alliance (MNA) – the professional AV industry alliance, charged with promoting awareness and adoption of AES67 – is hosting an expanded live AES67 demonstration on its booth, N625. The demonstration principally highlights AES67 interoperability between networked components operating with RAVENNA, Dante and Livewire AoIP transports, previously only operable independently of one another.
AES67 is the open standard that provides for the common interchange of digital media between different AoIP networking platforms. The MNA's live AES67 demo at NAB is a further development of those shown at the recent AES and ISE exhibitions.
Featuring products for the first time from several new member companies, interoperable will be demonstrated among devices from ALC NetworX, ARG Electrodesign, Digigram, DirectOut, Focusrite, Genelec, Lawo, Meinberg, Merging Technologies, NTP Technology, Solid State Logic, Studer, Telos Systems Inc. and Yamaha. The network is considerably larger than previously with a total of 27 interoperating devices.
Commenting on the practical significance of the extended demo, Kevin Gross, Chair of the MNA Technical Work Group, said, "We are demonstrating audio interoperability first and foremost, but we are also demonstrating interoperability of discovery and connection management. Dante Controller software and associated network protocols are being used to configure AES67 connections to and from Dante-based devices, while demonstration software from ALC NetworX bridges different discovery and connection management schemes supported by AES67.
"With these demos we're trying to make the point that AES67 is not some future holy grail for audio networking but an industry standard interoperability technology you can specify with confidence and use today."
Several member MNA companies are also presenting live AES67 demos on their stands at NAB, including …
ALC NetworX – N1822
Digigram – N3535
DirectOut GmbH – Booth # C6648
Focusrite – C9143
Genelec – SL8024
Harman @ Studer – C2923
Harman @ SAM – SL1805
Merging Technologies – C1839
NTP Technologies – C2939
The Telos Alliance – N1934
MNA AES 67 logo image link
AES67-2015 http://www.aes.org/publications/standards/search.cfm?docID=96
All brands and trademarks are recognized.
About the Media Networking Alliance (MNA)
The MNA is a not-for-profit corporation with membership available to all manufacturers, organizations, companies and individuals who are interested in the objectives and purposes of the alliance.
The MNA's objectives are:
to promote the adoption and standardization of AES67 as an audio interoperability standard through marketing and education.
to develop future AES67 specifications and other documents that augment, enhance or extend the primary AES67 specification for the purposes of enabling and promoting increased interoperability and reliability.
to provide developer support for AES67 products, and actively support those members producing AES67 compliant products, including, but not limited to, AES67 System Development Kit and AES67 Test Tools.
to provide a forum and environment in which members of the alliance can meet to review standards development and compliance programs, and to foster the development of new products based on the AES67 standard.
to educate the business and end-user communities about the value, benefits and applications for AES67.
establish and maintain relationships with educational institutions and other technology associations and organizations that help to promote the use and development of AES67 products.
A full list of member companies and other information can be found at medianetworkingalliance.com
Editors' contact:
Keith Grant
KGa marketing & media
Mobile: +44 7977 410 444
Skype ID: kgamarketing
E-mail: keith@kgamarketing.com
Media Networking Alliance NAB booth contact:
Tina J. Lipscomb
Media Networking Alliance, Inc.
Administrator
Phone: +1 425-870-6574
E-mail: tina@medianetworkingalliance.com