News
Press Release
AES67 live at NAB – MNA's biggest demo yet on booth N625
NAB SHOW
Las Vegas Convention Center
April 18 – 21
Booth #N625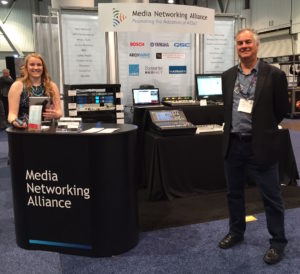 Kevin Gross, Chair of the MNA Technical Work Group and
Jessy Lynn, MNA Event Coordinator with largest AES67 live
demo on MNA booth N625
AES67 live at NAB – MNA's biggest demo yet on booth N625
10 MNA member companies staging demos on booths
Media Networking Alliance, Bothell, Washington, USA. 19 April 2016. The Media Networking Alliance (MNA) – the professional AV industry alliance, charged with promoting awareness and adoption of AES67 – is showing its biggest ever live AES67 demo on its booth at the NAB Show, highlighting AES67 interoperability between networked components operating with RAVENNA, Dante and Livewire AoIP transports.
Featuring products from several new MNA member companies, interoperability is demonstrated among devices from ALC NetworX, ARG Electrodesign, Digigram, DirectOut, Focusrite, Genelec, Lawo, Meinberg, Merging Technologies, NTP Technology, Solid State Logic, Studer, Telos Systems Inc. and Yamaha; a total of 27 devices, making it the biggest MNA live AES67 demo yet.
Kevin Gross, Chair of the MNA Technical Work Group, says, "We are demonstrating audio interoperability first and foremost, but we are also demonstrating interoperability of discovery and connection management. Dante Controller software and associated network protocols are being used to configure AES67 connections to and from Dante-based devices, while demonstration software from ALC NetworX bridges different discovery and connection management schemes supported by AES67.
"With these demos we're trying to make the point that AES67 is not some future holy grail for audio networking but an industry standard interoperability technology you can specify with confidence and use today."
Several member MNA companies are also presenting live AES67 demos on their booths:
ALC NetworX – N1822 
Digigram – N3535 
DirectOut GmbH – Booth # C6648 
Focusrite – C9143 
Genelec – SL8024
Harman @ Studer – C2923
Harman @ SAM – SL1805
Merging Technologies – C1839 
NTP Technologies – C2939 
The Telos Alliance – N1934  
image link MNA AES 67 logo
MNA NAB Booth Contact:
Tina J. Lipscomb
Media Networking Alliance Administrator
+1 425-870-6574
tina@medianetworkingalliance.com
Media Contact:
Keith Grant
KGa marketing & media
+44 7977 410 444