News
Press Release
MNA member companies promote AES67 at NAB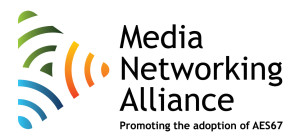 NAB Show
22 – 27 April 2017
Las Vegas Convention Center
MNA member companies promote AES67 at NAB
Member companies are sponsoring education sessions and hosting live interoperability demos throughout NAB Show
Media Networking Alliance, Bothell, Washington, USA, 22 April 2017. Member companies of the Media Networking Alliance (MNA), a non-profit trade association, established in 2014, to promote the adoption of the high-performance AES67 AoIP interoperability open standard, are exhibiting and participating in a wide range of promotional activities to advance the cause of AES67 at this year's NAB show.
A total of 21 member companies are exhibiting at the show, many of them hosting live interoperability demonstrations on their booths and / or participating in the Education Sessions.  10 MNA member companies, are participating in the IP Showcase event, along with members of eight other broadcast and professional audio industry organizations, in the North Hall, Booth N4824.
The exhibiting MNA member companies are ALC, ARG, Audio-Technica, Bosch/RTS, Calrec, Digigram, DirectOut, Focusrite, Genelec, Harman, Lawo, Merging, NetworX, NTP Technology, Shure, Solid State Logic, The Telos Alliance, The Telos Alliance TV Solutions Group, Riedel Communications, Ward Beck Systems, Wheatstone and Yamaha.
The IP Showcase will demonstrate interoperability of four parts of the new SMPTE ST 2110 standard, pertaining to video, audio, control and metadata. The inclusion of AES67, in defining the audio element of the new SMPTE ST 2110 standard, acknowledges the rapid and widespread adoption of AES67 in providing signal interoperability across all of the current leading IP based audio networking protocols. SMPTE ST 2110 is currently at an advanced draft stage and is widely projected as a fundamental development in a transition to full IP workflows in broadcast, based on common open standards.
The full program of MNA members' sessions:
Sunday 23 April, 14:00, DTVAG, Alexis Park, AVA Networks presents AES67 and SMPTE ST 2110
Sunday 23 April, 15:30, Room N256 Greg Shay, The Telos Alliance presents Faster, Cheaper, & Better: The Rapid Adoption of AES67 & AoIP Lets You Have All Three
Saturday 25 April, 09:00, Room 258, Andreas Hildebrand, ALC NetworX presents Studio Video over IP – How it All Comes Together
Wed 26 April, 15:30, Room N258, The Telos Alliance TV Solutions Group presents Updating Television Broadcast Telephony and Communication using SIP, VoIP and AoIP
Live AES67 interoperability demonstrations are being presented on the booths of the following exhibiting member companies:
ALC NetworX – N1424
Digigram – N8414
DirectOut – C6648
Focusrite – C1831
Harman – C146, S218LMR
Merging – C03037
NTP Technology – C385
The Telos Alliance – N7724, TVSG SU2321
Wheatstone – N6531
Yamaha – C1725
Speaking for the alliance, Angi Roberson, Co-Chairman of the MNA Marketing Working Group, said, "The MNA is tremendously excited to see the breath of education, demonstration and speaking events being undertaken by member companies during NAB, in support of AES67 for broadcast and pro audio applications. In addition to which, the alliance has been directly involved in cooperating with eight other key industry associations in organising the IP Showcase event, with MNA Vice-Chairman, Terry Holton, a member of the IP Showcase Board. With the current speed of adoption, it is clear that 2017 is going to be a significant year of transition, as AES67 continues to achieve mainstream adoption."
ENDS
All brands and trademarks are recognised.
About Media Networking Alliance
The Media Networking Alliance is a non-profit organization formed to actively promote the adoption of the AES67 audio networking interoperability standard. Currently comprising 30 member companies, the MNA includes a range of professional audio equipment manufacturers, as well as public broadcast corporations. The MNA provides a forum and environment whereby the members of the organisation may meet to review standards development and compliance programmes and to foster the development of new products based on the AES67 standard. This open standard is promoted by the MNA through a range of education and training initiatives, as well as through public demonstrations of audio networking interoperability. Developer support is provided by the MNA to ensure that members' products are compliant with the AES67 standard and achieve reliable interoperability with products from other manufacturers. Recent demonstrations have successfully connected together more than 20 pro audio devices from over a dozen different manufacturers.
Editors' contact:
Keith Grant
KGa marketing & media
Mobile: +44 7977 410 444
Skype ID: kgamarketing
E-mail: keith@kgamarketing.com
Media Networking Alliance booth contact:
Tina J. Lipscomb
Media Networking Alliance, Inc.
Administrator
Phone: +1 425-870-6574
E-mail: tina@medianetworkingalliance.com